30 astonishing 3D printed house concepts - HYPE VS REALITY
When we hear people talk about 3D printing we often hear the same story again that all houses will be 3D printed in the future. Well some constructions might be printed, but a house is more complex than just walls. There are an astonishing amount of 3D printed housing concepts that seem to happen already . Some of them are. We based ourself on an articles from 3ders.org and did some research on how real and realistic some of these housing projects are.
#1: WinSun China's 3D printed villa
THE HYPE: Winsun made major headlines twice over the last year alone, despite the fact that there is very little public information available about the company themselves. The first story broke in April of last year when they allegedly '3D printed' 10 houses in a single day. Initially we wrote it off as an April Fools prank, as the news was in fact released on April 1st. Immediately upon hearing this story we became a bit skeptical. 10 houses in a day? Is that even possible? Once again there really wasn't a whole lot of information online from the company about this process, and when we reached out for further evidence, they simply ignored our correspondence. Despite this, other media outlets ran with the story and the company never blinked an eye. (source 3Ders.org)
REALITY: A few walls that have been created with some kind of cement 3D printer. With a 3D printed house in mind we expect more. WinSun maybe started on the wrong foot, but their later projects are for sure worth to mention. Proving it was not just a one shot attemp to go viral but a company trying to adapt the technology to a larger scale.
#2: Dubai's 3D printed office
THE HYPE: The "Office of the Future" is the most advanced 3D printed building in the world. It is also the first fully functional, inhabited 3D printed building ever. It was inaugurated on May 23, 2016 by His Highness Sheikh Mohammed bin Rashid Al Maktoum, Vice President and Prime Minister of the UAE and Ruler of Dubai. (source http://officeofthefuture.ae/)
REALITY: This one is difficult as we can't find actual footage of the print process. We believe this could be possible to create in Dubai but with the lack of footage and too perfect renders we stay sceptical. We lean more towards the idea of this being more a concept phase project advertised as already finished.
#3: Amsterdam's 3D Print Canal House
THE HYPE: In keeping with the theme of Dutch architecture, our next project on the list is the very exciting 3D Print Canal House project, which has been underway in Amsterdam since early 2014. The project was initiated by DUS Architects and is still being worked on by a dedicated team in Amsterdam's North shore. Using a large 2 x 2 x 3.5 meter KamerMaker 3D printer and a score of different plastic materials, the canal house is being printed piece by piece to be assembled. What's especially exciting about the project is that it has made its progress open to the public, so that locals can see how the 3D Print Canal House is coming along. (source 3Ders.org)
REALITY: The good thing about this project is that is it open to the public. But the footage in their video show a bit larger than desktop 3D prints. We are waiting patiently for something that looks like a house.
#4: WinSun's 3D printed Chinese courtyard
THE HYPE: WinSun China, the company that has built an impressive number of 3D printed housing structures, also dabbled in other types of architecture earlier this year having presented their stunning 3D printed Chinese courtyards which were inspired by the Classical Gardens of Suzhou. The original gardens, which date back a thousand years are part of UNESCO's World Heritage List, are stunningly delicate and have inspired Chinese gardens up to this date. WinSun's 3D printed Chinese courtyard for its part, was designed by Ma YiHe and features a gallery, garden, windows, a bed, vertical green walls (which can hold plants), and 3D printed chairs and tiles. Two courtyards were made in total, one measuring 130 square meters, and other slightly smaller at 80 square meters. (source 3Ders.org)
REALITY: Again WinSun prints houses. But if we take a look at the rough edges and the uneven layers we don't think this technology will take over the way we build homes. And how do they manage overhangs? Do you have to break the support structures with a sledgehammer?
#5: Ruijssenaars' 3D printed Landscape House
THE HYPE: While this particular project hasn't been realized yet it is still one of our favorites, as it shows how 3D printing can open the doors for not only more efficient building practices but also for seemingly impossible building designs. The Landscape House, conceived of and designed by Dutch architect Janjaap Ruijssenaars in 2013, has kept up excitement over the past few years through the unveiling of a 3D printed bench inspired by its design, as well as the creation of the 3D Builder, a freeform concrete 3D printer. This machine, which was developed by Universe Architecture and construction company BAM, will help to finally build Ruijssenaars' stunning and seemingly endless Landscape House. (source 3Ders.org)
REALITY: Looks promising. At least there is honesty about whether it is still a concept.
#6: WASP's Shamballa Technological Park
THE HYPE: One of the larger scale projects on this list is Italian 3D printing company WASP's 3D printed eco-village which is being built in the municipality of Massa Lomarda, Italy. The experimental village, called the Shamballa Technological Park, is currently underway and is being realized with the help of WASP's large scale (we're talking 12 meters tall) BigDelta 3D printer. In fact, the project has reportedly completed its first leg of work, having printed a nearly 3 meter tall shelter from a combination of straw and clay. It's next phase of work will be to complete the structure and to fit it with a roof and door. WASP's goal with the Shamballa Technological Park project is to demonstrate how a sustainable town can be built with limited money, energy consumption, and material waste. (source 3Ders.org)
REALITY: The footage is real. We hope WASP succeeds in it's mission to create eco-villages. But we can't call THAT a house yet.
#7: WATG 3D printed Curve Appeal home
THE HYPE: Curve Appeal, a 3D printed home design, was the winner of the Freeform Home Design Challenge earlier this year, which means that it will soon be a reality. The innovative design was conceived of by Chicago architecture firm WATG and its construction will reportedly begin in 2017 thanks to Chattanooga, Tennessee based startup Branch Technology, which was responsible for initiating the Freeform Home Design Challenge. In fact, the Curve Appeal home was designed specifically to be made with Branch Technology's Cellular Fabrication (C-Fab) 3D printing technique, which creates freeform structures that an easily be combined with other construction materials. The innovative design was a clear winning choice with its nuanced and organically inspired curved structure. (source 3Ders.org)
REALITY: A nice project in concept phase. We are looking forward if it will become reality this year.
#8: Alex Le Roux's 3D printed Tiny House
THE HYPE: Recently, Houston, Texas-based student Alex Le Roux made big news for his 3D printed Tiny House. What is amazing about the small building, which measures 8'x5'x7' is that Le Roux managed to make it by himself using his very own V2 Vesta 3D printer with a build volume of 10'x10'10'. His Tiny House, which is being heralded as the United States' first livable 3D printed structure, was funded in part by Modeco Development LLC., printed from a cement based mix sourced from Portland, Oregon and printed in only 24 hours. The question is, would you live in it? (source 3Ders.org)
REALITY: This is where we are today with 3D printed houses. We hope the future will be more polished.
#9: Beijing's 3D printed Vulcan Pavilion
THE HYPE: Though not a house, Beijing's amazing 3D printed Vulcan Pavilion simply had to be included on our list. The enormous structure, which measures 2.88 meters in height and spans 8.08 meters in length, currently holds the Guinness World Record for the largest 3D printed pavilion ever made. The Vulcan Pavilion's design was inspired by the clouds created by a volcanic explosion and its organic curves and great scale do certainly work to invoke a sense of wonder. The giant 3D printed installation, which was made from over 1000 3D printed components took 30 days and 20 large scale 3D printers to make. The Vulcan Pavilion was unveiled last year for Beijing Design Week. (source 3Ders.org)
REALITY: It looks amazing but it is not a house.
#10: ORNL's AMIE initiative
THE HYPE: To design the innovative 3D printed house, ORNL partnered with architecture firm Skidmore, Owings & Merrill LLP (SOM), who conceived of a building which is made up of a number of versatile 3D printed polymer panels which occupy various functions such as insulation, exterior structure, and air and moisture barriers. The project is meant to showcase the future potentials of sustainable, off-the-grid human living with a house that can be built with little to no waste and can be powered by its accompanying vehicle. (source 3Ders.org)
REALITY: The effort to create this one 3D printed shelter is huge with today's technology. But on the other side the project was enabled through 3D printing. We think that there is some future in this type of projects for exploration purposes. The self sustainable shelter will be a housing option in the future.
#11: Beijing HuaShang Tengda Industry and Trade 3D printed villa
THE HYPE: Within China, WinSun has not been the only company to make a name for itself through 3D printed houses and construction, as Beijing-based HuaShang Tengda Industry and Trade has recently impressed with its 3D printed villa which was made in only 45 days. The large villa, which measures 400 square meters, was additively manufactured directly on site using the company's own concrete 3D printer. This means that to build the villa, the only materials that really needed to be transported were steel beams for the reinforced structure, the 3D printer, and a cement material mixture. Additionally, according to the team responsible for the technology and the structure, their 3D printer can accommodate any standard cement, and does not require any additives, which could allow for people to source cement locally for even fewer transportation costs. (source 3Ders.org)
REALITY: Eliminating transport of heavy materials and relying on local cement sources could be an advantage for 3D printed houses. But we may not forget: The 3D printer needs to be transported too? Who will do the math? And that for a result that looks like a house from the age 3D printing was invented.
#12: MX3D 3D printed bridge
THE HYPE: This next project marks the 3rd Dutch-based 3D printing construction project on our list, and let us say it is certainly one for the books. For anyone who has been to Amsterdam, you'll be familiar with its iconic and frankly quite beautiful canal bridges, which are located throughout the charming city. Well, if all goes well, the city might soon be showcasing its very first 3D printed steel bridge. The bridge, which was designed by Joris Laarman is currently being built through a collaboration between Dutch startup MX3D and construction company Heijmans using a multi-axis robot equipped with 3D printing tools. The project, which has been underway for about a year now, should be realized by 2017, when eager tourists will actually be able to walk across a 3D printed bridge. (source 3Ders.org)
REALITY: The project is for sure innovative and technically challenging. But, it's 2017 and still no bridge. We wish the project best of luck to start as soon as possible as it is really something to look forward too if completed with this technology.
#13: ZhuoDa's 3D module villas
THE HYPE: Speaking of 3D printed villas, last year a Chinese company by the name of ZhuoDa Group amazed us with their two-story 3D module villas, which were assembled in just three hours time. Unlike HuaShang Tengda's on site construction, however, ZhuoDa's 3D printed villas are made almost entirely in a factory, and assembled on site through various blocks. Essentially, pre-made building block modules are shipped to the construction site, where a crane assembles them, similarly to a 3D printer. The cost and time efficient module villas were first unveiled in Xi'an City in China last July. (source 3Ders.org)
REALITY: Stacking modular prefab cubes is not 3D printing. It's stacking modular prefab cubes.
#14: 3D printed concrete castle
THE HYPE: If we told you someone had 3D printed a whole castle, would you believe it? Well it's true, even if the castle is only 3 x 5 meters. In 2014, Minnesota-based contractor Andrey Rudenko built his very own concrete 3D printer with which he successfully created an amazing 3D printed castle right in his own backyard. Since 3D printing his own mini concrete castle, Rudenko has planned to create his very own 3D printed fantasy village, which he hopes will not only entertain guests but will introduce young architects and engineers to the possibilities of 3D printing buildings. While the 3D printed fantasy village hasn't come to fruition quite yet, there is no denying that Rudenko has a strong vision for the future of 3D printing in construction. (source 3Ders.org)
REALITY: Making a contraption in your backyard that creates a castle or whatsoever will consume the same amount of time to create this constructions in a conventional way.
#15: Lewis Grand 3D printed hotel
THE HYPE: Another notable project that Andrey Rudenko has signed his name onto is the Lewis Grand 3D printed hotel in the Philippines. The project, which was announced last year, was initiated by entrepreneur Lewis Yakich who is aiming to create the world's very first 3D printed hotel. Essentially, Yakich enlisted the help of Rudenko to help with the 3D printing technology necessary for building his hotel extension. The extension, which measures 130 meters square, is destined to be used as a party spot for the hotel guests and even comes equipped with a 3D printed jacuzzi. Beyond just the hotel, however, Yakich and Rudenko are also planning on building and commercializing 3D printed homes with their novel concrete 3D printing technology.(source 3Ders.org)
REALITY: We are familiar with the 3D printing concrete technology now. Beside that is is only a small extension of the actual hotel, we can only trace back articles and news from september 2015. A publicity stunt? If anyone finds footage of the finished building please send it to info@tripodmaker.com. Please.
#16: TU Eindhoven 3D printed concrete pavilion
THE HYPE: Another pavilion worth mentioning is the Eindhoven University of Technology's recently unveiled 3D printed concrete pavilion. The structure, which was made with a specially designed 11 x 5 x 4 meter concrete 3D printer (itself developed by TU Eindhoven and Dutch industrial handling company ROHACO), demonstrates the plurality of 3D printing construction projects that are being undertaken around the world. The 3D printed pavilion itself is 2 meters tall and was mainly realized by a team of dedicated PhD and fourth and fifth year students. It's fluid almost anthill like form also accurately showcases the intricate and interesting designs that can be constructed with concrete additive manufacturing technologies. (source 3Ders.org)
REALITY: A down to earth example of 3D printing structures and exploring the benefits. We prefer to see a pavilion researching possibilities over a 3D printed house where no one is living yet for some "unknown" reasons.
#17: Emerging Objects' Saltygloo and 3D printed cement pavilion
THE HYPE: Next on our list are two projects that were brought to us by California design studio Emerging Objects, who really never fail to impress. The first, which was developed in 2014, is a truly remarkable project as Emerging Objects designed a house 3D printed out of an innovative salt-based material called Saltygloo. While the house itself was not fully realized, the design team still impressed with its full size prototypes of 3D printed Saltygloo structures, which were notable for their amazing transluscent qualities. In 2015, Emerging Objects came out with another 3D printed construction project which wowed us equally: a 9 foot tall (2.74 meters) concrete pavilion named Bloom. The pavilion is slightly different from other 3D printed concrete structures we've seen, however, as it was constructed out of 840 individually 3D printed blocks. Evoking a blooming flower, the impressive pavilion was printed out of an iron oxide-free cement-polymer composite and was unveiled in March of last year in Berkeley, California. (source 3Ders.org)
REALITY: Are we going to live in pavilions in 2020? Still the structures are impressive and mention worthy.
#18: Digital Grotesque 3D printed room
THE HYPE: In 2013, architects Benjamin Dillenburger and Michael Hansmeyer unveiled their plans to build Digital Grotesque, a 3D printed room made up of over 260 million different and intricately designed surfaces. The room, which was completed some months later impressed its visitors with its algorithmically generated designs and its sheer size (measuring 3.2 meters tall and16 square meters). Digital Grotesque was 3D printed from sandstone and was coated with pigment, alcohol and shellac for optimal strength and a pristine finished look. A 1:3 prototype of the room was also made and presented at the Materializing Exhibition in Tokyo and Swiss Art Awards 2013 in Basel, Switzerland, which was made using a VoxelJet 3D printer. (source 3Ders.org)
REALITY: At least the project is finished. A very impressive example of 3D printed interior.
#19: Echoriven 3D printed architectural sculpture
THE HYPE: Another stunning 3D printed construction project from 2013 was Echoriven, which boasts being the world's first full-scale 3D printed architectural installation. Designed and built by Smith|Allen Studio, Echoriven was printed in separate parts on Type A Machines' Series 1 3D printers and was assembled by hand on site in the middle of a 150-acre redwood forest in Mendocino County, California. The impressive installation is a white, almost bark-like enclosure with an ethereal translucent quality that measures 10 x 10 x 8 feet. Printed out of a PLA bio plastic material, the installation will eventually biodegrade back into the forest over the course of the next 30 to 50 years. (source 3Ders.org)
REALITY: We love this kind of art. But in terms of building materials PLA won't be a game changer.
#20: Hadrian brick laying 3D printer
THE HYPE: Last but definitely not least on our list is not actually a 3D printed structure, but rather an especially promising 3D printing construction technology: Fastbrick Robotics's Hadrian brick laying 3D printer. Australian based Fastbrick Robotics is making some serious headway in the field of construction with its innovative and extremely efficient brick laying robot, the Hadrian 105, which can lay about 225 bricks an hour in a pattern determined by a laser guide system. What's more, the company is already developing the second generation of its robotic system, the Hadrian X, which will be capable of laying 1,000 bricks per hour, more than double what a human bricklayer could achieve in a day. The brick-laying 3D printer has also been designed to work from the back of a truck, so it can be easily brought onto construction sites for on-site building. The Hadrian X is expected to hit the market within the next year. (source 3Ders.org)
REALITY: This is a classic example of robots outperforming humans. 3D printing is the false term for this building method.
#21: China's seven meter tall replica of Beijing's famed Temple of Heaven
THE HYPE: Of course, we have to mention Qingdao Unique Co., Ltd's gigantic 3D printer designed for constructing houses. The huge 3D printer, which was unveiled by the Chinese company in 2014, has an impressive build volume of 12m x 12 x 12m and apparently weighs an astounding 120 tons (about 24 elephants!). The massive printer, which was installed in Qingdao, was designed to print with a novel graphene glass fiber reinforced plastic material, which offers a lightweight, strong, corrosion-resistant, and eco-friendly building material. At the time of the printer's unveiling, Qingdao Unique Co., Ltd planned to use the large machine to construct a seven meter tall replica of Beijing's famed Temple of Heaven. Though the structure may never have been completed, Qinddao Unique's giant 3D printer still stands as being one of the largest FDM printers ever made. (source 3Ders.org)
REALITY: Largest printer back then, no building constructed. This is like buying a desktop 3D printer and not using it after your first (and failed) print. We call this an unsuccessful attempt.
#22: 3D printed Winterfell tower
THE HYPE: Game of Thrones fans are sure to get a kick out of this upcoming project, as a cement plant in Russia has decided it will 3D print a 6 meter tall replica of one of Winterfell's iconic towers. The project was inspired in part by the series and in part by WinSun China's existing 3D printed structures. In fact, Rinat Brylin, the director general of the cement plant located in Ekaterinburg, said he visited WinSun's construction site and wanted to create his own, improved method to 3D print cement –there's nothing like a bit of competition to get innovation going! The Game of Thrones tower construction is currently underway, as Brylin's large cement 3D printer, operated through a robotic arm and measuring 8 x 8 x 4 meters can print about 50 cm of cement a day. Brylin and his small team are working continually on improving their method and hope to eventually be able to build an entire house in three days for under $10,000. (source 3Ders.org)
REALITY: The last news on this was 4 months ago. Either we are too stupid to use google or there is no footage of the finished tower. The challenge will be to reduce the print time to three days...
#23: 3D printed public toilets
THE HYPE: If you thought WinSun China's 3D printed apartment blocks and villas were impressive, their most recent structure is sure to flush you away! The Chinese 3D printing company very recently unveiled what is being heralded as China's first fully 3D printed public toilets at the Da Yang Mountain in Suzhou, China. Yes, you heard me, fully 3D printed. From the underground infrastructure, to the interior and exterior of the building, and even to the decorative elements, WinSun has constructed every bit of the facility with their 3D printing technology. The components for the public toilets were all additively manufactured in WinSun's factory and were then transported and assembled on site—a feat which only required one crane and four workers to complete. (source 3Ders.org)
REALITY: Since 3D printed villas, hotels, courtyard were already hyped, WinSun had no other option left. Let's be honest...
#24: 3D printed Suzhou-style Chinese courtyard
THE HYPE: 3D printing construction company WinSun China recently unveiled two more completed Chinese courtyard style villas made with their novel 3D printing technique in Binzhou City in Shandong Province. The 3D printed homes are fully equipped with all necessary amenities (including air conditioning) and meet China's home building requirements. The two villas, which were inspired by China's classical Gardens of Suzhou, were impressively built within only two months time and cost only 5,000 yuan per square meter (about $750/square meter). As mentioned, the two buildings were 3D printed out of a special concrete "ink" using WinSun's massive 3D printer, which measures 150 meters in length, 20 meters in width, and 6 meters in height. (source 3Ders.org)
REALITY: This article is not all about WinSun. It is amazing how they keep persistent. This way they might actually start a revolution and change the way building are made in China.
#25: Europe's first 3m tall 3D printed pavilion
THE HYPE: The Europe's first 3D printed concrete pavilion which was created on behalf of the Ile-de-France regional authority, was realized in collaboration with XtreeE, Dassault Systèmes, ABB, and LarfargeHolcim. More than just showcasing the capabilities of 3D printing construction, the 3D printed Pavilion effectively demonstrates the potentials and future of sustainable architecture and construction. That is, by using digital design technologies, the companies involved were able to create an optimized building design, meaning that the walls are not solid but are 3D printed with a complex support structure inside them to both maximize strength and reduce material consumption. (source 3Ders.org)
REALITY: For now the world is working on a 3D printer that prints rough concrete. But is it inhabitable?
#26: Europe's first zero-footprint 3D printed building
THE HYPE: The luxurious Dutch Hotel De Slaapfabriek from Teuge is planning to build a unique, 3D printed and zero-footprint conference location that provides a highly inspiring and modern environment. Construction is scheduled to kick off in July 2017, and could be completed in as little as ten days. If successful, it could pave the way for a new environmentally-friendly construction 3D printing paradigm. The concept for the structure was worked out during the Dutch Construction Hackathon in May 2016. Bouwend en Innovatief Nederland designed a truly modern and inspiring concept: an iconic structure that provides an adaptive and high-tech environment to trainers, coaches and management teams, which is sustainable and clean at the same time. Owners Marjo and Arvid are further planning to keep construction energy neutral and to 3D print with recycled waste materials. If successful, this will become the first 3D printed zero-footprint structure in Europe. If all things go according to plan, the 90m2 boardroom-level structure will be 3D printed over the course of ten days. (source 3Ders.org)
REALITY: If finished this would be amazing. Being in a sceptic mood, is the complex shape necessary to achieve all this sustainability?
#27: 3D Printed Urban Cabin and accompanying bathtub
THE HYPE: DUS Architects has 3D printed an extraordinary cabin in Amsterdam, complete with a bathtub, and is now taking guests for overnight stays. The bathtub is outside, though, which could present a problem for shy types. The 3D printed cabin measures 8 m2 and with a volume of 25 m3, so it's compact and easily printed. The walls have an unusual geometric wall construction with an internal honeycomb construction that provides structural integrity without having to create a frame. That means that with a 3D printer in place these shelters could be quick to build.
The whole structure is built from bioplastic, too, which means it's easy to recycle. The plastic can be turned into a new 3D printing filament or simply destroyed in situ, so this is a potentially invaluable solution when disaster strikes in remote areas. A serious clean-up operation would present major logistical issues on their own in some areas of the world.
The cabin is part of a larger discussion on sustainable, affordable housing in urban centers and DUS has an ongoing project called 3D Print Living It. Many cities around the world are facing a housing shortage and short-term solutions like this could be an elegant way of dealing with the problem. That could give city planners time to figure out how to accommodate an ever increasing population. (source 3Ders.org)
REALITY: Unusual geometric constructions to achieve more stability with less material will be one of the major benefits of 3D printing in construction sites. We are curious what DUS architects will learn us in 2017.
#28: America's first 3D printed houses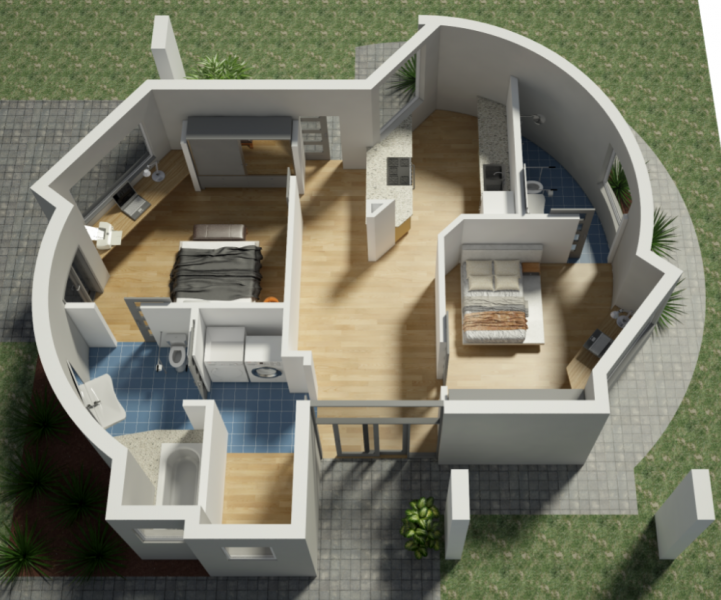 THE HYPE: The U.S may soon have 3D printed homes, and a new partnership are claiming they will be created in just one day. Construction company Sunconomy have teamed up with Russian 3D printers Apis Cor and their 3D concrete printer and realize this ambition. Larry Haines, founder of Sunconomy, wants the public to join them on a "revolutionary journey to build affordable, smart, sustainable housing with Apis Cor's new 3D concrete printer". Sunconomy are currently crowd-funding for this project with a goal of over $500,000. (source 3dprintingindustry.com)
REALITY: The article is not that old so we can give it some time to see if they can manage to print something close to their render.
#29: Project EGG
THE HYPE: Fabricated from 4760 small, distinct, 3D printed stones, Project EGG introduces a new method for construction. Such innovative designs are considered milestones for future building methods and collaborations. Constructed from PLA, a new re-usable and biodegradable material, the 5 x 4 x 3 meters structure is made by the community. Hundreds of co-creators from different countries had the chance of "adopting" a stone; shifting the boundaries of any conventional construction method.
This pavilion is a poetic play on light and shadow; its organic smooth form is explained by Michiel van der Kley as "Many small elements together forming a large structure, as in the objects from nature. The possibilities of desktop 3D-printing when you see a large object as the total of many small elements are limitless". (source arch2o.com)
REALITY: This one deserves a honorable mention as it uses desktop 3D printers which are widely accessible. The idea of co-creating with everybody who owns a 3D printer is really strong and can be a way of donating a home or shelter. For now this egg will not leave the exhibition venue. But we are fond of the concept.
#30: Earthquake-Proof 3D Printed Column
THE HYPE: The 'Quake Column' is comprised of a pre-determined formation of stackable hollow bricks which combine to create a twisting structure, optimized for intense vibrations in zones of earthquake activity. Created by design firm Emerging Objects, the column's sand-based composition is one of many in a series of experimental structures devised by the team using new materials for 3D Printing, including salt, nylon, and chocolate. The column can be easily assembled and disassembled for use in temporary and permanent structures, and was designed purposefully with a simple assembly procedure for novice builders. (source archdaily.com)
REALITY: We firmly believe that innovating new and powerful structures might be the better approach to use 3D printing within construction instead of printing the shapes that we are used to in a building today.
Conclusion
It's 2017. 3D printing has already a huge impact on all industries. It will affect the way we develop building structures and geometries. There are some trendsettings companies pushing the limits and doing research. This will for sure evolve and within a few years the projects in this article will seem long time ago. At this point, there are already some buildings printed with some large 3D printers. Technically , although challenging, it is possible. On the other hand we miss some sort of testimonials of real people living and using those buildings.